Updated on 2010.08.30
Heisei 22nd Asakusa Shrine experience experience learning
Thursday, August 19, 2010 (Friday)
Asakusa Shrine experience learning was held at Asakusa Shrine.
Thursday, August 19
The 7th Asakusa Shrine experience learning was held.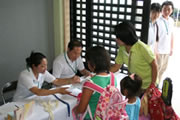 In the morning, the children come with luggage.
The shrine experience learning begins from this place for 1 day and 2 nights.
Opening ceremony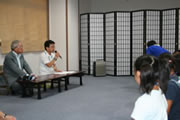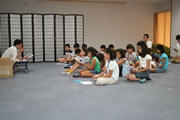 Opening ceremony was held at the meeting room on the 2nd floor of the new office. It is wide.
Opening report festival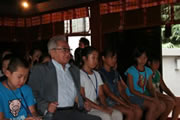 We will report the holding of experiential learning at the shrine to God and pray that experiential learning can be held without any problems. The ingredients of curry used for dinner are raised in the gods.
Group activities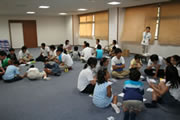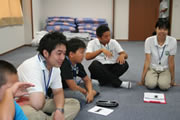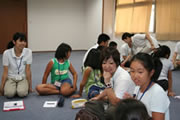 It is divided into three groups and decides the role of group name, group leader and so on. I played a game to remember everyone's name.
Practice exercises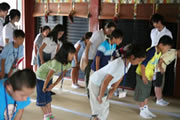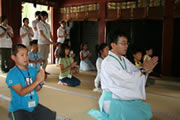 I practice how to practice at the shrine. Everyone is puzzled because things like sei squatting and bowing angle, etc. are not usually familiar. The sitting seat looked painful.
lunch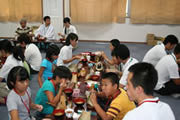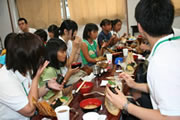 We gather together and have lunch. We prepared rice balls and miso soup.
Explore Shinkansen shrine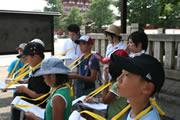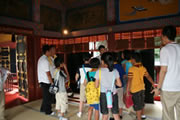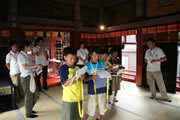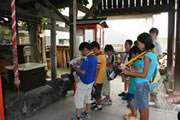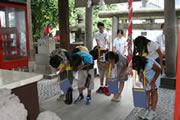 From the afternoon, I will practice around the shrine precincts and the shrine. I will learn how Torii lives and how to visit shrines.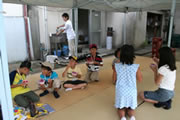 The snack is shaved ice. Because it was hot, it also serves as a measure against heat stroke.
Ibaraki cooking (making curry)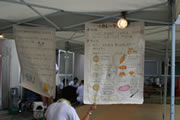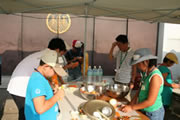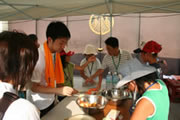 I am making curry in the precincts. Speaking of outdoor food, it is curry as well. A child who is helping at home is tricky.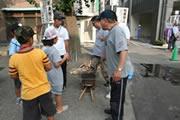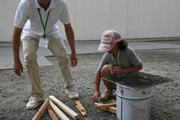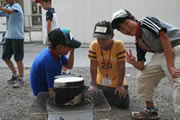 A child who does not cut vegetables will give a fire. Of course I will use Chaccaman.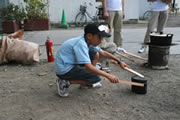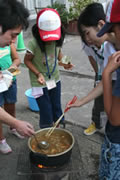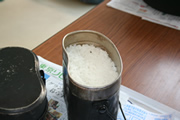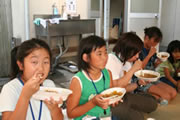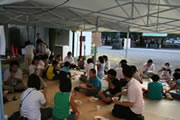 I planned to make a fair amount, but I am short of every year. The curry you eat with everyone is delicious.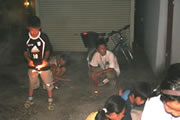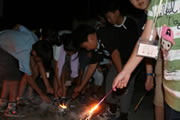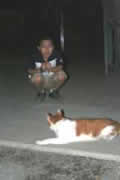 Fireworks festival at night. Some kids were curious about MARO (?) I was hooked by fireworks.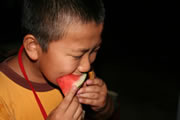 It is a watermelon of dessert.
I had a sunset before going to bed, but I did not take a picture.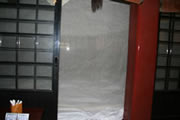 The girl slept at the company office, but the boy sleeps with a mosquito net at the shrine. I taught how to enter mosquito nets, but because mosquitoes have entered quite well, I used a mosquito repair mat. Mosquito netting has little meaning.
Tuesday, August 11
Radio gymnastics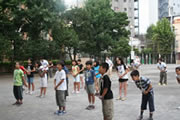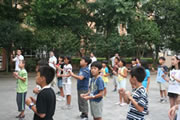 I participate in radio gymnastics that I do at town council. At this point adults are more down than children.
Morning service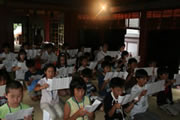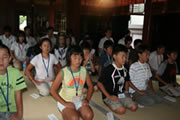 I did the evening evening yesterday, so I will do the morning worship. Practice what you learned yesterday, such as sitting and bowing angle.
Cleaning inside the premises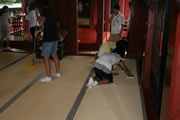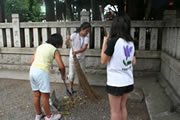 Cleaning the shrine and precincts. I will clean the inside and the outside in turn.
breakfast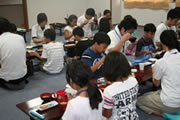 After the cleaning is finally finished breakfast.
It is a simple menu with rice, miso soup and salted salmon, but I always eat this breakfast silently.
Walking Asakusa ① ~ Visit Asakusa Temple ~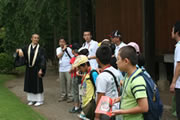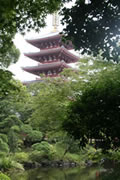 I went to Sensoji next to you and asked a story from the monk. I also showed the Legendary College that I can not enter normally.
Walking around Asakusa ② ~ Tour in Komagatado ~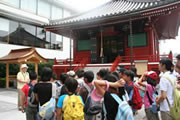 It is Komagatado where Kannon statue landed. Volunteers explained about Komagato.
Walking around Asakusa is to have you learn about the history of Asakusa. Did you get interested in the history of Asakusa?
Sorry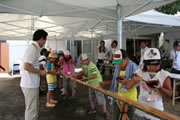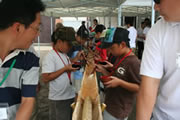 When I get back, lunch is sneak up. Children gathering as far as possible. We will change the time with the lower child at the right time. I also streamed jelly, orange and cherries. It seems very difficult to take.
Protective Production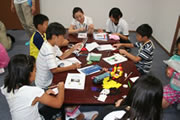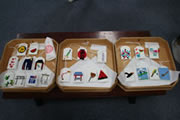 I will stick a felt in the white protecting bag and make only one defense in the world. I got motivated events of this experience learning. Everyone is fine. After this, we will do the divine spirit in the shrine and bring it back to the children.
Closing ceremony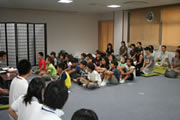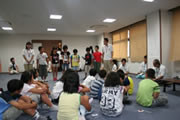 In front of the parents who came to pick me up, I showed my newly made amulet, and I asked him to announce what kind of things remained in the impression.
Closing report festival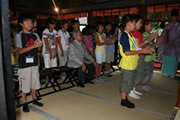 I will report to God that my experiential study has finished successfully. I got the leader of the group to have Tamushi Bessou. Experience the results of practicing in exploring the inside of the company shrine.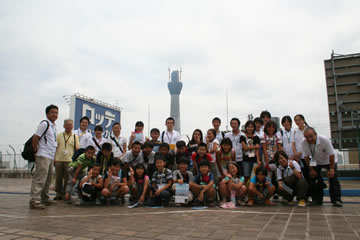 A group photo taken taking the sky tree under construction in the back. Good work for two days. Also, everyone who helped and thank you for your cooperation while you are busy, thank you very much.