Updated on 2011.10.30
Heisei diary in 2011
September 7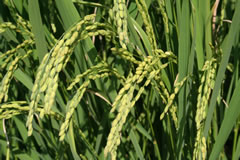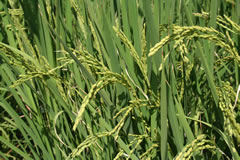 Rice was made and spikes drooped.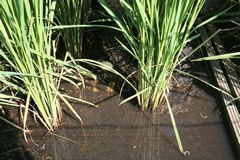 Was the thin stocks getting thicker a little?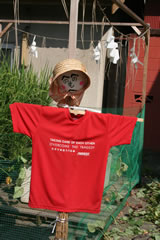 Scarecrow installation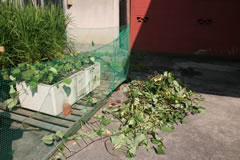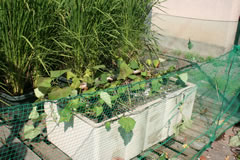 <Extra>
The sweet potato had excessive growth, so I dared to cut it. Two garbage bags for two. It may have been cutting too much.
August 31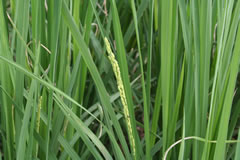 My ears came! !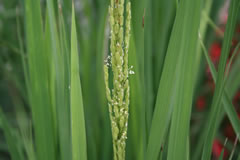 There were spikes with white flowers already blooming already.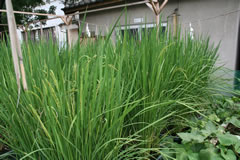 It is hard to understand, but almost all planters spiked up. It is a sense of relief when ear will come out for the time being.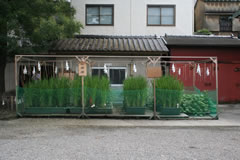 If you look at this, growing is bad for people who are more likely to shade on the side of the tree. Next year let's shift the position of the planter.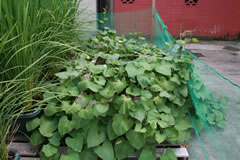 <Extra>
Sweet potato growing. I am already left alone. I am also looking forward to it.
August 11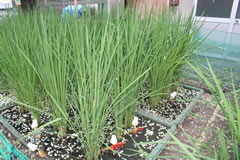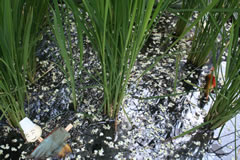 It is about time to head up, but I do not have any signs at all. The stock is much thinner than usual.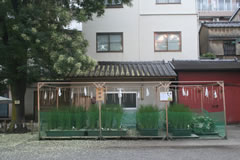 Growth is not good this year. Although I tried fertilizer etc., I am very anxious.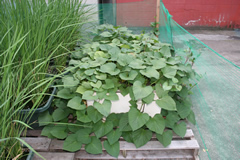 <Extra>
Sweet potato is very healthy.
Scarecrow making on August 6
I will make a scarecrow with a wish to make a lot of rice to be harvested. Have the children make small Scarecrows and set them in Kanda.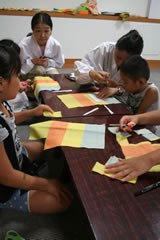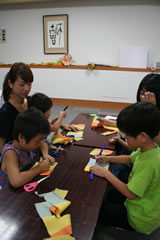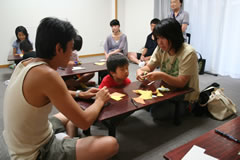 First cut the cloth and make clothing of the Scarecrow. I use cloths that are no longer needed at the shrine. Parents can help small children.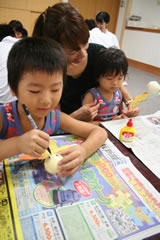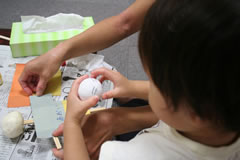 I will draw a face on the head of the Scarecrow. The face of the Scarecrow was made in paper clay in advance. Even though it gets wet with water, it is painted with varnish.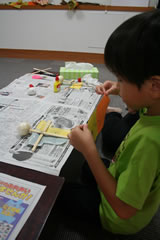 I will dress up the Scarecrow. Scarecrow's body is a thing with disposable chopsticks wrapped with wire.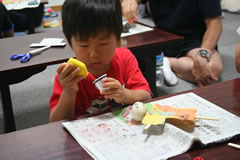 I have a small hat.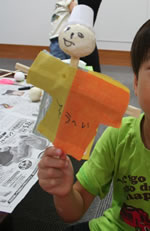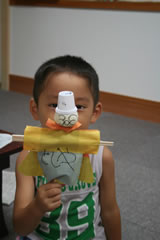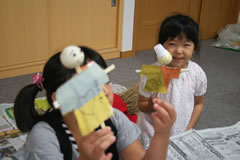 It is completion of a small Scarecrow.
I got each name written.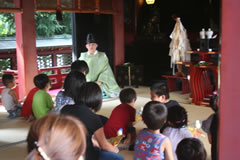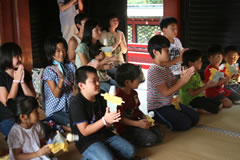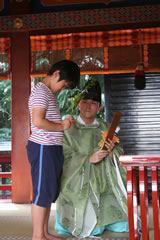 With a Scarecrow, I pray to God at the shrine.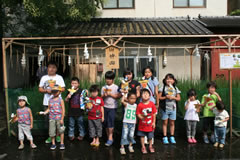 Commemorative photo with a scarecrow just made in front of Kanda.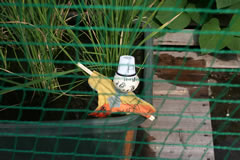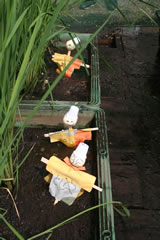 I will give you a scarecrow to Kanda and it is the end. May all rice harvest safely.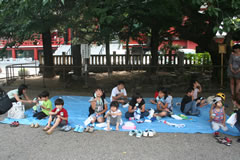 Finally, I had snacks of ice candy. Good work everyone during the hot weather.
July 21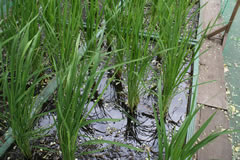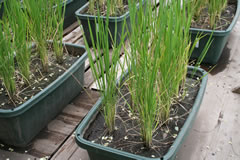 I pulled out the water in the middle bowl. Watering is done in the morning and evening, but we can not save water. By doing this, the roots are stretched, and oxygen seems to spread through the soil. Actually I will do it in early July, but since rice has not grown so much, I tried to delay it slightly. I spread fertilizer, but whether it is effective or not. I will save the water again after 5 days in this state.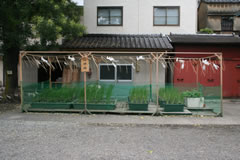 Compared to all times, green is slightly darker but the thickness and size do not change very much.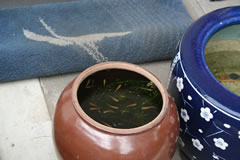 As I pulled out the water with a midfielder, I took medaka and evacuated it in the pot. A lot of rice bees are born.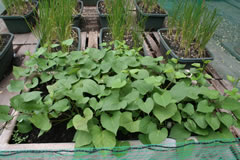 <Extra>
Sweet potato is fine. I cut the extra crane, but the crane elongated from the middle again to feel grand.
July 11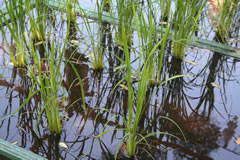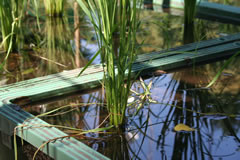 As the rainy season began and summer sunlight gushed down sharply, stocks of rice grew a little bit taller and the stock became thicker a little, but it is much thinner than last year's same period. Is it alright. Last year it was about 2 times to 3 times as thick as this year, but what has happened this year.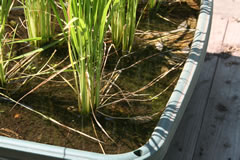 This is the thickest stock this much.
In the water, green algae are occurring. I am concerned about the medaka inside.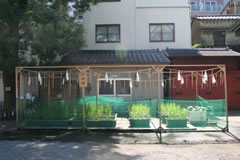 I have to drain the water soon, but I wonder if this drainage can be drained with such a thin stock.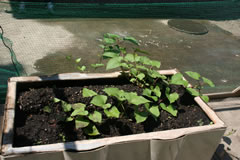 <Extra>
The crane of sweet potato stretched in a great direction as I noticed it. I cut the extra space and planted the crane on the ground.
June 25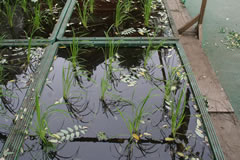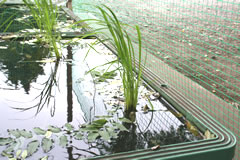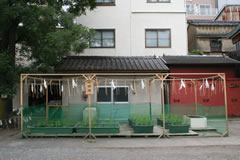 The height of rice is about 20 ~ 25 cm. It is still poor, but I think that will grow from now.
I set up a sign written "Kanda".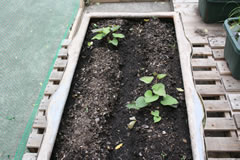 <Extra>
In sweet potatoes, because the crane has stretched a little, she covers the stretched crane and leaves only leaves. It seems that root will come out from crane again.
June 10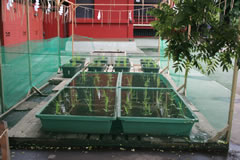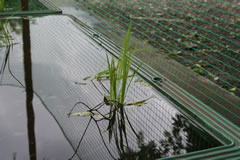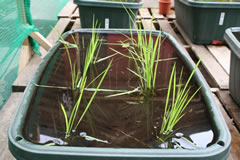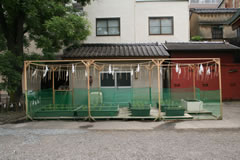 The rice which was only looking at the head from the surface of the water grew quite large. 20 centimeters is over. Although it is still poor. We set up a net for cats and released medaka for measures against Boophra. I'm swimming amazingly.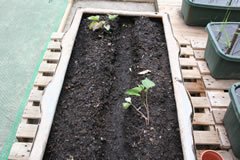 <Extra>
It is seedling of sweet potato. Tomorrow I'm fine. I hope it will grow as it is.
May 29 rice planting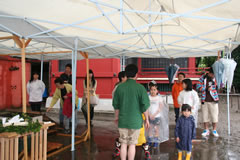 It is finally rice planting.
Unfortunately it rained. And a typhoon is approaching. However, I put up a tent and forced it. There were many children who took a rest indeed.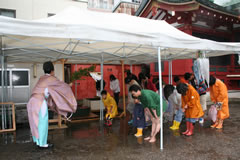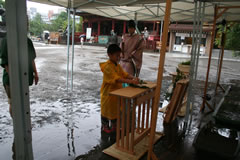 Before rice planting, we will do "rice planting report festival". I pray that God will report rice plants and safely without accidents.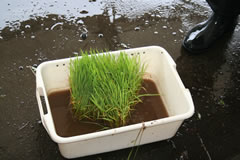 Since the seeds raised at Asakusa Shrine eventually did not make it in time, we will plant the rice that we had divided from our acquaintance after all.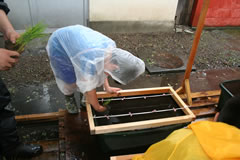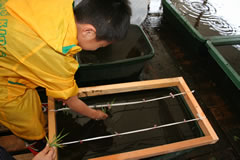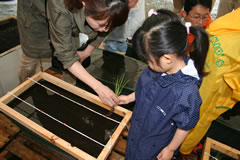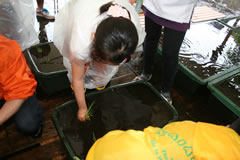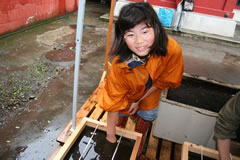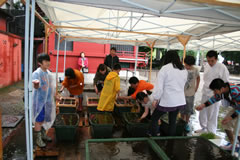 As the number of children was small, one planter was assigned to each one. In accordance with the sign, we will plant the rice at a depth deep enough to hold the wrist on the ground.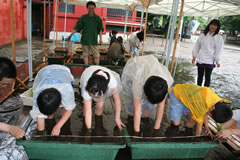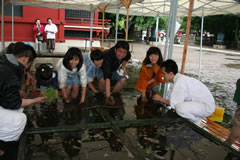 Big boat plaque will barefoot into the inside and plant backwards. I was wondering if I would hate getting into the mud, but my children were delighted. One person (forcibly) attended the parents' participation. If this is a control it will fall, but one falling down will not come out safely.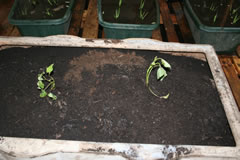 It is an annual field. Last year I planted potatoes and failed, so this year we became sweet potatoes. Hopefully you can dig a potato as well as harvest.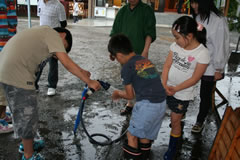 At the end I washed my hands and feet.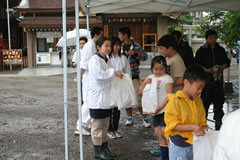 I will get sweets and go home.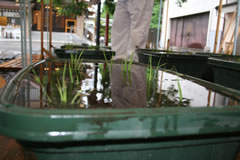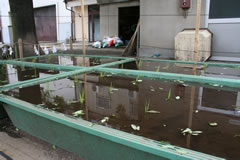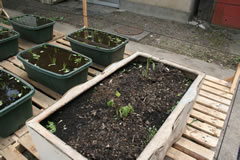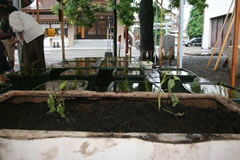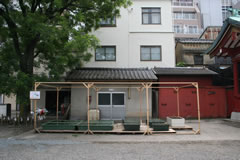 Both rice and sweet potato are weak yet, but I hope you grow well and safe.
To everyone for your hard work during the rain.
Cultivating seeds and making soil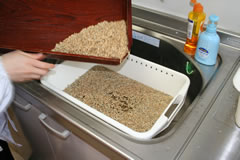 I will attach rice husk which I harvest last year to water. I will throw away the floating seeds. It germinates in water for about one week.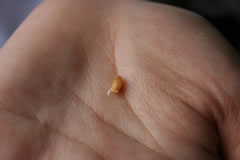 In a couple of days, a small sprout comes out. Is it a bit confusing?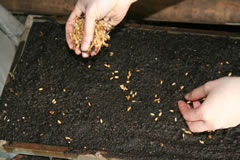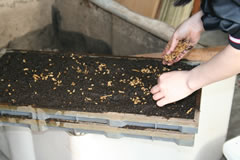 Spread the seeds on the nursery. Actually I had to do it from a very early time but I was late for the Sanjamatsuri . Just to be sure, I will ask the acquaintance for seedlings.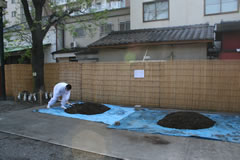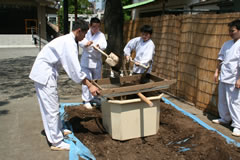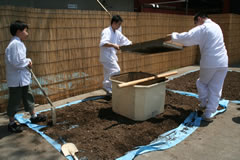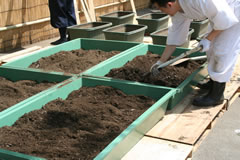 This is making earth. I mix last year 's soil and newly bought soil and sift it further. I increased the number of planters than last year, so the amount of soil is not odd.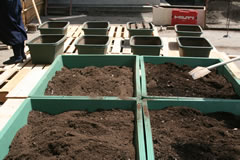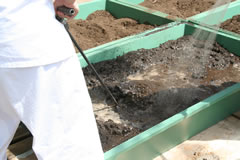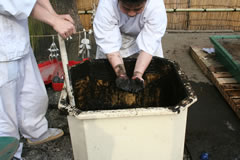 Place plenty of water in the soil and mix with a stirrer. Include water and air in the soil.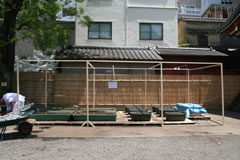 Besides the annual planter, a large planter called boat pla is added. The area is about twice the last year.