2009.10.30 Updated
Heisei diary in 2009
Rice reaping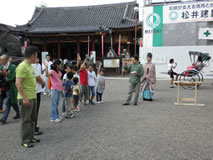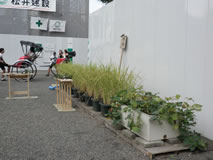 October 4, the weather is somewhat cloudy. I am glad that it did not rain.
Before harvesting, we will do a rice harvesting report festival.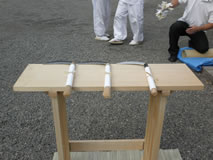 The sickle which cuts rice also performs a purification of purification.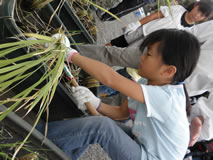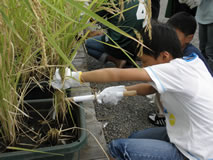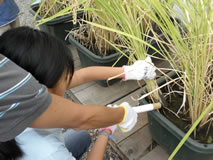 When the reporting festival is over, harvesting is started immediately. Children who have participated many times are used to, but children who participated for the first time and small children mowed with adults. It is difficult to handle a sickle. It is shame that children will not cut their hands.

It looks like a lot of leaving, but if you separate the leaves from the spikes, the harvest is slight. But it is more than last year. Years of harvest is increasing.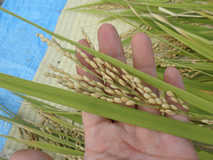 The grain size of rice is about the same as usual year. Is it a reasonable harvest?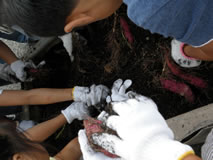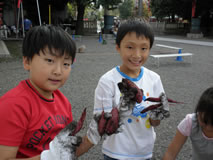 After harvesting it is digging potatoes. Sweet potatoes are sour from the ground. Children seem to find it more enjoyable than harvesting. Because there were many small grains, I think I will try reducing the number of seedlings next year.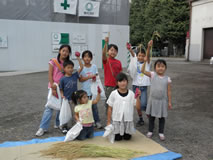 We were able to harvest a lot!
September 29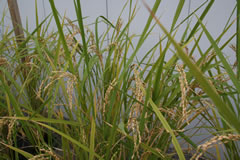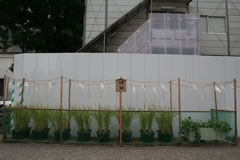 Since there was a rice nouveau event, we asked farmers in Minamiuonuma City to see the rice. It is almost time to cut, so we will do harvest from 15:30 on October 4.
I drained Kanda, but since a number of medaka survived, I evacuated in a brazier. It is strong. I will also buy water plants.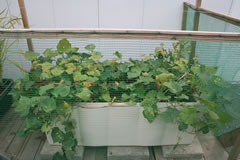 <Extra>
I will also dig a potato when harvesting rice. I hope the fruit is bigger than last year.
September 15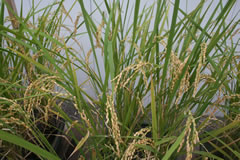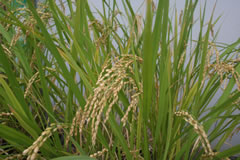 Panicle is golden color. Due to the low sunshine hours this year, I feel that the number of panicle particles attached to one rice plant is lower than last year. It will not be a good harvest, but still it is likely to be successfully harvested this year.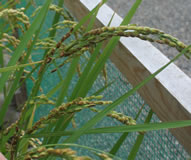 Rice was also made in black ear, and my head was hanging. This is also an annual phenomenon.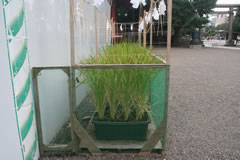 I hope the typhoon will not come around again.

If it is an ordinary rice field, the water we are collecting is said to drain water about a week before rice harvesting. It is drained at the end of this month if it is calculated, since people of Minamiuonuma City come by Rice Nouveau event on the 27th (Sunday), I will ask at that time.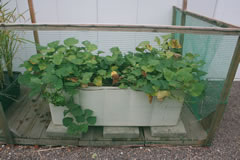 <Extra>
It seems that the sweet potato that was growing up and growing really had to cut when the crane grows to a certain extent. It seems to be because the nutrition that goes really goes to the leaves. I heard it and hurried off, but I wonder if it is late.
September 8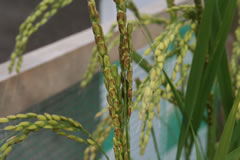 I have found a spot that is getting black for some reason. There were two. Because the contents are not contained, did it die and turned black? I do not understand why, but this is also annual, so I will be relieved.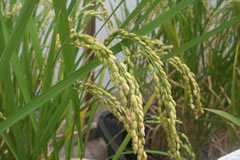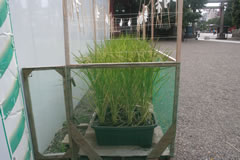 Other bones seem to be doing fine. The color got closer to gold and it got rid of.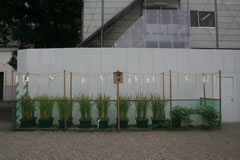 I have to make scarecrow.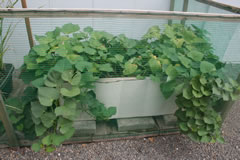 <Extra>
sweet potato. There is nothing to say anything anymore.
August 29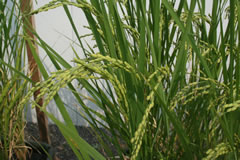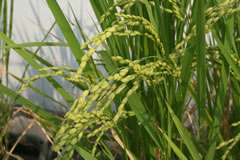 Ears are dripping. It is evidence that rice has come in. A rushing farmer said, "Rice is too tall, it is too fertilized, is not it?" I was told. I only gave it about 2 times. Was it a lot of quantity?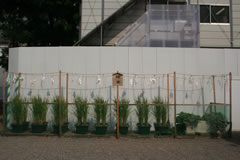 It is difficult to understand, but I have stretched out birds. I want to make scarecrow this year too.
Water is still piled up, but when will we pull it out?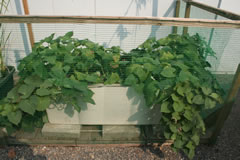 <Extra>
sweet potato. It is slightly sagging in this heat.
August 17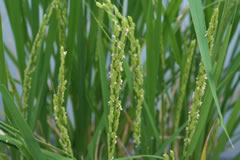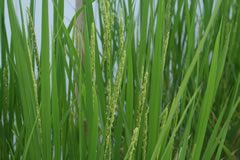 Chains have also appeared from the last planter. Chains are appearing one after another from other planters as well. Did summer-like sunny weather appeared and the sunshine time extended, or was fertilizer working?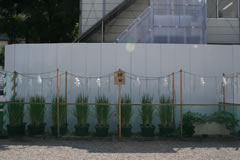 It is likely to be expected this year.
I recently noticed that it is in the shade in the morning as it is located in the west side of the construction office. But it seems to be getting through.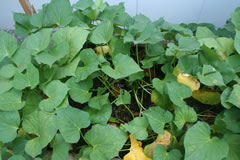 <Extra>
Sweet potato is doing well.
August 12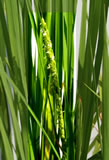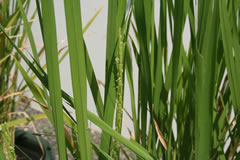 My ears came. Of the eight planters, there were panicles in seven. Because there were white flowers in blossom, it probably was already out front. I did not notice. Did fertilizer work? But the number of ears that are out is small. Once, I added fertilizer. Timing and quantity to give fertilizer are actually not so well understood, so it is appropriate.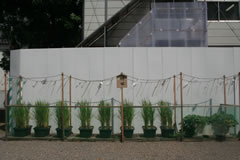 It is a relief when ears will come out. The summer-like sunbeams finally got to stare after the typhoon passed. I hope more ears will come out.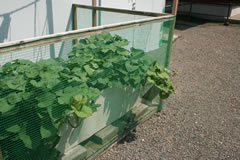 <Extra>
Leaves of sweet potatoes were popping out of the net. I'm fine.
July 29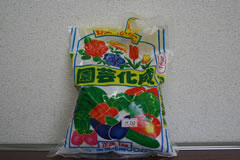 I gave fertilizer last week. It is a fertilizer for gardening which I bought at a shop around that. Price 247 yen. Whether this is okay is unknown.
I scattered this into each planter one by one.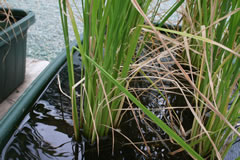 I felt that last week 's fertilizer worked, somewhat the rice color became darker and the stock became thicker.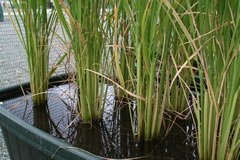 However, there are still many thin stocks. I will not be disappointed.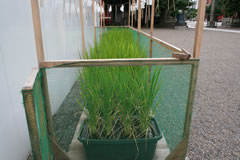 I think that the medaka is annihilated. At the moment Boophra has not gotten up, and I will stop adding any more. Because I feel sorry.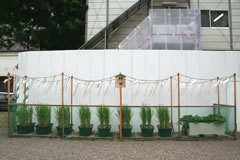 It is said that this year is a cool summer, it is hot enough. Just because the rainy season has settled, I feel that sunshine hours are small.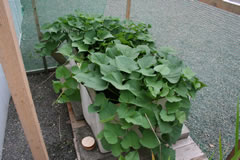 <Extra>
Progressing smoothly. Because of that, I also spread the fertilizer here.
July 21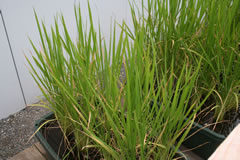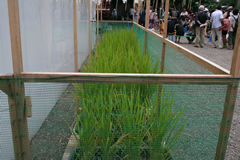 Rice has died somehow. It is information that it seems to have withered because it incorporates nutrients to make ears at this time, but only to pray that it has not really withered.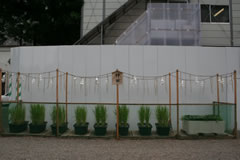 I bought fertilizer for vegetables for the time being, but I am very anxious as to whether I can really be present.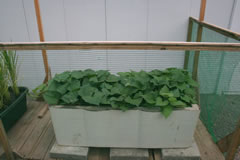 <Extra>
Sweet potato is fine.
July 15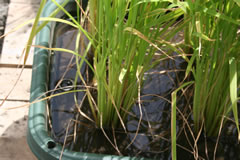 I drained it about five days, but I put water in again. There are also roots growing on the soil, but it seems that it will die as soon as you do it.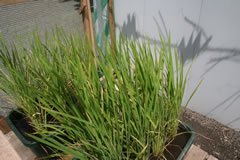 It seems that it is somewhat withered because the soil's nutrients are insufficient. I will fertilize when my ears are swelling.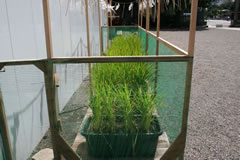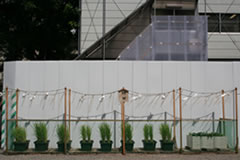 As the rainy season has come, the sunshine hours will be longer in the future, so I think that it will grow rapidly from now on. Because I do not depend on it for a while as it is now, I want you to get bigger and bigger.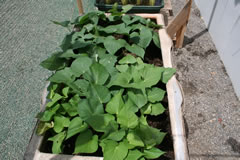 <Extra>
Sweet potato growing. The crane is growing steadily. I am planting elongated crane in the soil, but I can not plant any more.
July 10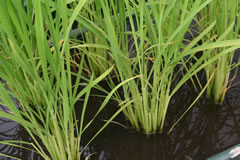 The thickness of the stock has also increased

I was advised that it would be better to drain water from farmers once, so we are capturing medaka right now. I am struggling.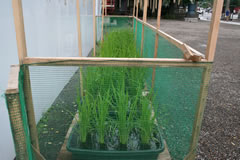 It seems that water will be put in once after drying soil, but will the soil dry with this rainy season sky, will not it?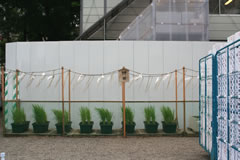 Today is a little windy, so rice is on the verge. The right one is a box that contains cheeks of cheeks in the city. Today is Hokki city.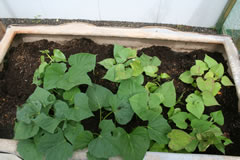 Sweet potato was growing as the vine grew, so I planted a vine in the ground. I hope to grow up big.
July 1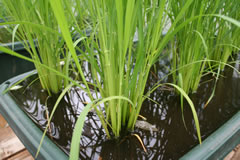 The thickness of the stock has increased.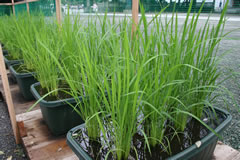 The height is roughly 60 cm. It is twice as high as last week.
July 1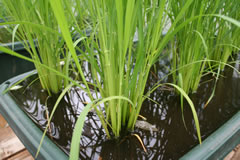 The thickness of the stock has increased.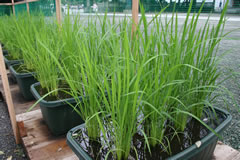 The height is roughly 60 cm. It is twice as high as last week.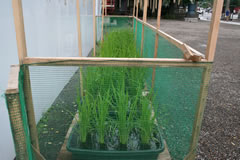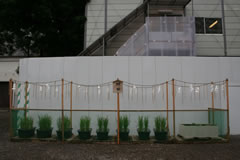 I feel like growing good as usual without feeling. Is it because the sunlight got better by arranging the planters in a row? Medaka is cheerful for the time being. Although the number is gradually decreasing.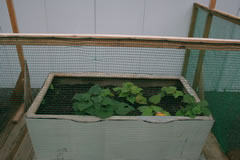 Sweet potato is also growing. The crane has grown.
June 22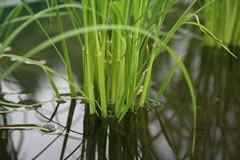 The seedlings have grown in thickness.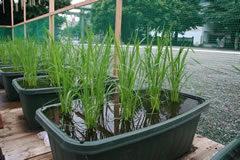 The height also exceeds 30 cm. You are growing up quickly.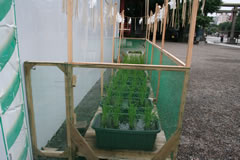 Since medaka almost died, I bought 30 animals and added it.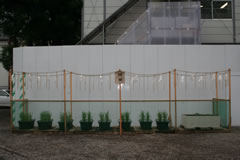 It seems that a cat aims at medaka jumping over a fence and entering. Cats are amazing jumping power. It seems that the shrine ran out, but maybe the reason for the decrease in medaka is also there.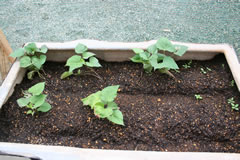 Since there is one space of sweet potatoes, we are considering whether to plant even kidney beans or stretch the sweet potatoes to plant them.
June 15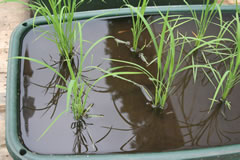 The height of seedlings has grown, but it is still a bit weak as it is thin.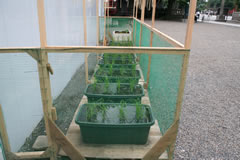 The released medaka will die one after another. The cause is water. Try putting your finger on a fine day, it will be fine water with direct sunlight. I was shocked. Because the water depth is shallow, it can not be helped.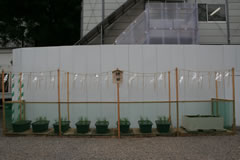 It is going well so far.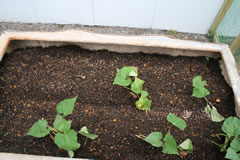 <Extra>
In sweet potato, one seedling died. Sorry.
June 8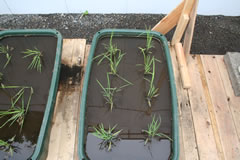 Seedling grew in only one week. Rice planting Initially, it was not about whether it was several centimeters from the surface of the water or not, but today it is about 10 centimeters above the surface of the water. Apparently it took root. I'm glad.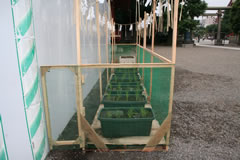 We are releasing medaka to counter Boophra. I could not take a picture. Excuse me.

I set up a sign saying "Kanda (Shinden)".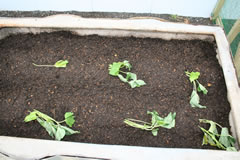 I planted sweet potatoes. Really wanted to plant potatoes, but it seems that the time has already passed. So, it is sweet potatoes last year. It would be nice to take root here as well.
Rice planting

It is the soil of last year. It is said that it will sunlight heavenly on a fine weather day and kill pathogenic bacteria.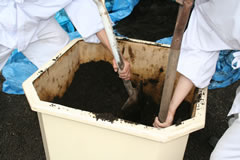 Mix soil and newly added soil and make soil to put in the planter. Pretty powerful work. All of you guys are covered with mud.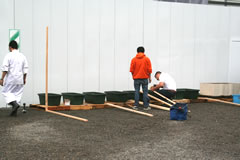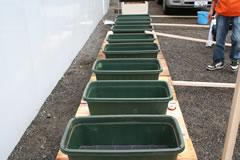 I will prepare a planter to be a rice field. This year I tried arranging in one row. It seems that this person gets sunny.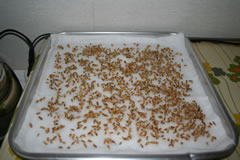 I tried raising seeds for the time being, but I was late for the beginning because I was caught by the Sanjamatsuri , and this time it was not in time.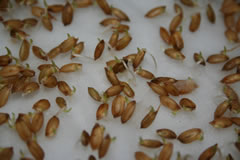 I germinate but the root can not dig into the underlying cotton wool. Absorbable cotton, may not need it. This time we will rice plants with seedlings (also) received.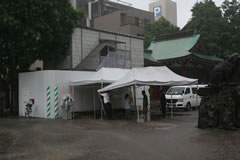 Finally the day of rice planting. It became ridiculous heavy rain, building a tent and forcing rice planting. At this point it is already feeling that the tension is getting down.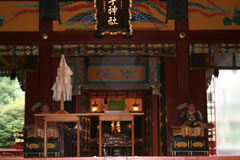 Because it is so rainy we did a rice planting festival inside the shrine.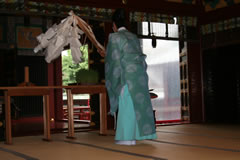 I will exhort the seedlings I will plant from now.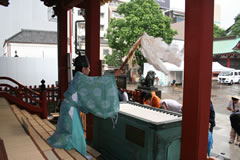 The gathered people are soaked up including the children as they build the tent, so they can not go to the shrine and exorcise in front of the saisen box.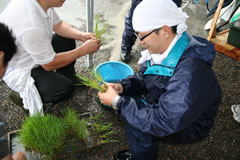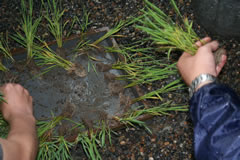 We will divide the seedlings that we have received finely to make it easy to plant.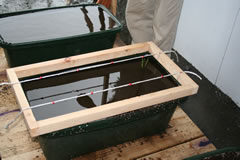 I have a string with a marker so that it can be planted at even intervals. We plant eight seedlings on one planter.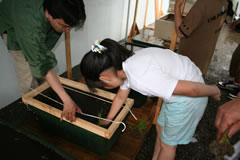 Children who participated in spite of bad weather. While fearing adults, we will plant rice according to the markers.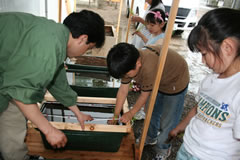 Plant seedlings vertically, deep enough to fill the wrist. As there were few participants, one planter was assigned to each person.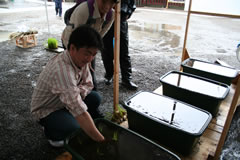 A couple who was wedding ceremony two years ago. I happened to visit the shrine and it became rice-planting participation in the heavy rain (forcibly).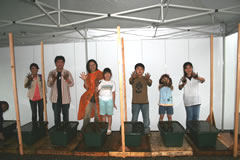 At the end is a memorial photo by everyone.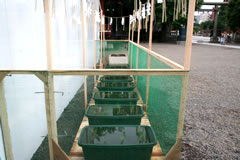 Attach the enclosure and the net.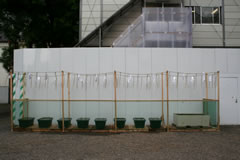 I hope that you can harvest safely